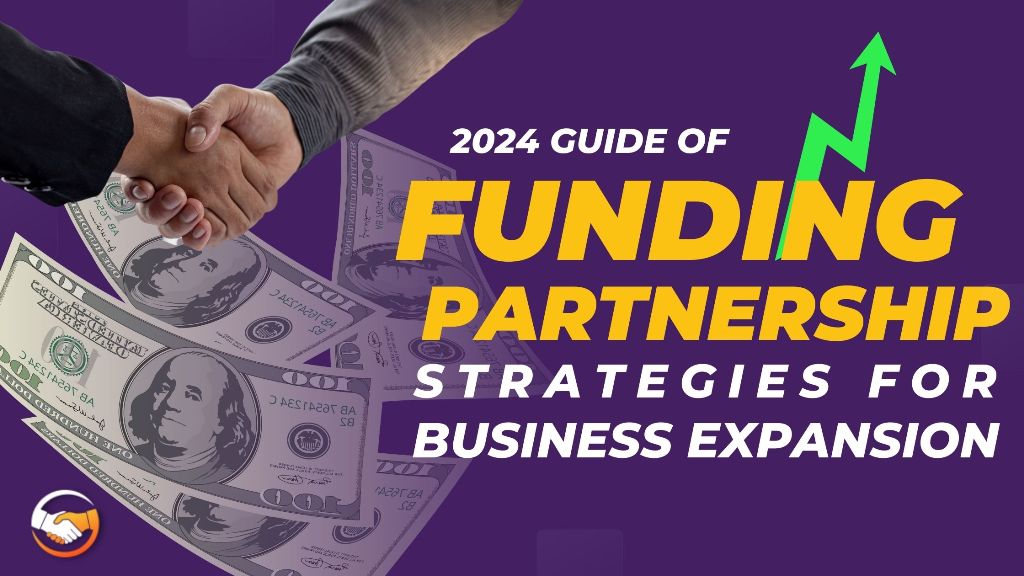 At the core of business development lies funding partnership. Typically, late stage companies in the United States get the largest share of investment as funding. But what does funding partnership hold for the budding entrepreneurs?
We've deduced some growth strategies as part of our ode to empower businesses. It's evident that businesses at any stage can expand further with the much needed capital. Our goal is to offer this comprehensive guide to help businesses secure the perfect funding partnerships in 2024.
This article provides key insights into securing funding partnerships for business expansion at any stage.
What Are Funding Partnerships for a US based Business?
Finding the right funding partnerships can be a game-changer for businesses. Especially the ones looking to fuel their growth and expansion. Co-selling works for 77% of businesses as per Concur. Whether you're a startup looking to scale or a late stage company planning to expand, funding partnerships are crucial. And so is understanding the nuances of funding partnerships.
Before we dive into the strategies and insights,
Let's define funding as per the latest market factors.
Funding Partnerships in United States
A funding partnership constitutes a structured agreement between two or more entities. It is aimed at collectively conducting a business venture and overseeing its operations. Funding partnerships distribute the resultant profits among its members. This is the reason why Partner Path states that 68% of consumers make purchase decisions without speaking to a sales representative much. And that's a big statistic to ignore! Knowing the involvement of partners adds more reliability and credibility for the business.
In order to sustain and support the partnership, partners allocate resources and assets to the endeavor. Within this context, funding partners play a pivotal role. They willingly undertake the responsibility of supplying the committed financial resources stipulated in the funding agreement.
The Stages of Funding in United States
Stages of funding explain the funding purposes, funding sources, and key considerations for a business. This offering valuable insights for entrepreneurs and investors in the startup ecosystem. Here is a comprehensive overview of the four typical stages of funding for US based startups.
Seed Stage
The seed stage is the initial phase of funding. It's often the earliest stage of funding, where businesses seek capital to develop a proof of concept. This funding is used to build a prototype or conduct market research. At this stage, a business idea is transformed into a viable startup.
At this funding stage, the startup has progressed beyond the ideation phase. It has starting to gain traction in the market. And so the Series A stage typically involves securing significant investment to fuel growth. The funding is also used to scale operations, expand the team, and drive customer acquisition.
When a business has successfully executed its plan and needs additional capital, it falls under Series B stage of funding. The purpose of funding at this stage of business growth is to further expand and solidify market position. It is also used for product development, and establishing a stronger foothold in the industry. Private equity investors are the major sources of Series B funding in the United States.
This stage of funding is best fit for the businesses that wish to enter new markets. Series C funding is to accelerate the business growth and help the company prepare for a potential IPO (Initial Public Offering). At this stage of funding, companies may have a solid track record of revenue and customer growth. And so the funding amounts are often substantial.
Funding stages beyond Series C can vary. They are not as standardized in the United States. Getting funding at this stage can be used for multiple purposes. For example, this funding can be used towards a major acquisition. It can also be used towards building a profitable exit strategy. This type of financing is known as mezzanine financing or late-stage venture capital. Read more about other Types of Credit Funding.
To navigate the thrilling journey of growth and financial prosperity that lies ahead in the coming year. Remember, success in business requires unwavering focus. Businesses must have the agility to adapt to ever-evolving circumstances. It is also important to seize the myriad opportunities that financing partnership can offer to your business.
Let's go over some of the popular strategies to attract lucrative partnerships.
Strategies for Attracting Funding Partnership
Now that you understand the types of funding stages in the United States, let's explore some strategies. These strategies help to attract the right partners for your business expansion. To begin with, craft a compelling pitch first. It is important to develop a clear and persuasive pitch that highlights your business's potential, unique selling points, and the benefits of partnering with you.
Using a powerful pitch, you can easily navigate to better funding opportunities.
Here are some other strategies to score rich funding partnership.
Network Effectively: Attend industry events, join professional associations, and connect with potential partners. Your network can be a valuable resource for finding the right fit.
Diligent Due Diligence: Thoroughly research the potential partners. This helps to ensure their goals align with your business and that they have a history of successful partnerships.
Prove Your Worth: Demonstrate your business's capability and potential for growth through past successes, a solid business plan, and a clear expansion strategy.
Negotiate Wisely: When engaging in discussions, be prepared to negotiate terms. The negotiation must be mutually beneficial and it must ensure the partnership agreement protects your interests.
The Importance of Funding Partnership
When considering expansion plans, funding partnerships are a big factor for businesses. Funding can inject much-needed capital into the business. Moreover, the partners can bring much more into the venture. This includes industry expertise and market connections.
Here's why funding partnerships are essential.
Access to Capital: Funding partnership provide the financial resources required for growth. This does not add more liability to the business. And so getting this capital is one of the biggest advantages of these financing partnerships. No business likes additional debt.
Niche Expertise and Guidance: Partners can offer valuable industry knowledge specific to the business niche. They bring strategic insights to help your business thrive.
The Benefit of Risk Sharing: Sharing the risks with a partner reduces the burden on your business. This factor alone is enough to make expansion less daunting and more exciting.
Better Market Access: Partners can open doors to new markets, customers, and distribution channels. Overall, this helps businesses boost sales and achieve better ROI without much spending.
"The significance of aligning with the right funding partner cannot be overstated. It can be a strategic decision that has the potential to catapult your business towards unprecedented success."
Key Takeaways
As we peer into the horizon of 2024, it's imperative to grasp the crucial role funding partnerships play. Start this process today. Look into the diverse types of partnerships available, and the effective methods for both attracting and managing such collaborations. These insights will prove pivotal in your quest to expand and strengthen your business.
We hope that by incorporating the valuable insights from this guide, your business will be better prepared for business expansion.
Funding Partnerships have the potential to be transformative, propelling your business to new heights of achievement and sustainability. Embrace the power of collaboration and financial synergy as you chart your course for success in 2024 and beyond.
Unlock your business potential as a Credit Partner. Join hands with one of our pre-selected businesses that matches your niche. Call us at (720) 500-3795 or Whatsapp (720)-538-5943 to find your match.